The thriving wine industry is one of Walla Walla's most essential features. According to Ron Coleman of Tamarack Cellars (one of Walla Walla's original wineries), many people dream of starting a winery in quaint, lovable Walla Walla and basking in the romantic lifestyle winemakers are perceived to have. Starting a successful winery isn't always as easy as it's cracked up to be, though. Last Tuesday I sat down with both Coleman and Duane Wollmuth (Executive Director of the Walla Walla Wine Alliance) and talked with them about the challenges Walla Walla wineries face. The first challenge they each described is the creation of their business model. Many different business models exist as possibilities for wineries in the Walla Walla Valley. Winery owners must decide upon size of production, pricing, and distribution method, among many other complicated factors. Method of distribution is one of the most determining factors of a winery's success. The three avenues of distribution winery owners employ are the three-tier system, the direct-to-consumer method, and (most commonly employed) a combination of the first two.
Three-Tier Distribution
The three-tier distribution model is how most wine in America is sold. Producers (wineries) sell their product to wholesalers throughout the country, who in turn sell to retailers and restaurants, who in turn sell to consumers. This method is valuable in that it allows the name of the winery to spread past the local area much more easily, which is necessary in building a brand. The downside is that the winery receives approximately half of the retail price. In order to be successful in this model, wineries must depend upon volume to gain profit. The other difficulty is that they must compete with extremely large companies who sell huge volumes of wine and who dominate the wine distribution system. Shelf space is limited and competition is fierce.
Direct-to-Consumer
The other path winery owners can take is the direct-to-consumer method, which involves selling the product from tasting rooms and through mailing lists. This model is advantageous in that it allows the winery to receive 100% of the retail price. In the early years of the Walla Walla wine industry, this method was less difficult than it is today because there were only a handful of wineries from which consumers could chose to buy from. Today, there are more than 100 wineries in Walla Walla, all trying to sell to a limited number of customers. While the number of wine tourists coming to the valley has grown in leaps and bounds over the last decade, this increase has been outpaced by the growth of new wineries. It has become increasingly difficult for new start up wineries to attract attention among the growing local competition.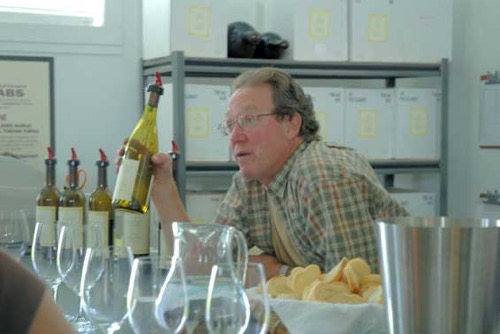 Most startup wineries hope to depend mostly upon the direct-to-consumer method, because of the high profit margins. New owners see the success of a few cult wineries and hope to emulate that model. The reality most eventually face, is that for every one Leonetti Cellar or Cayuse Vineyards, there are scores of less successful ventures. The term 'cult' by its very nature implies exclusivity, and therefore implies competition.
Another Source of Competition
When considering the likelihood of starting a successful winery, we must examine not only the local competition but also the international competition. According to Duane Wollmuth, every state has wineries now, something that wasn't the case 15 years ago. Nationally and internationally, wine production is increasing. Wineries have to get very creative in how they market and how they sell their products so that they can compete with national competition. Wollmuth says, "The number of wineries nationally and internationally are growing, too, so we have to keep in mind that we need to compete against the Napa Valleys of the world or the Yakima Valleys or the Columbia Valleys and continue to raise awareness of Walla Walla wines."
The Moral of the Story
In spite of all the challenges Walla Walla wineries are currently facing, the fact that the industry is growing rapidly, on local, national and international scales must not be overlooked. As in any market sector, whether it be restaurants or dry-cleaners, not all new businesses will succeed, but many will. What those who wish to start a winery must keep in mind is that it is a very difficult business to compete in, and that unless you're starting a winery with no concern of how much profit you make, much work will be required before reaching the romantic aspect of the industry.
Sources:
Coleman, Ronald. Personal interview. 30 Sept. 2014.
Wollmoth, Duane. Personal interview. 30 Sept. 2014.